With Valentine's Day right around the corner, many companies have been releasing non-perishable Valentine's Day themed food items that will have you feeling the love all day. Move For Hunger is always encouraging people to donate food to your local food bank whenever you can.
This year, we would like to highlight some fun Valentine's Day nonperishable food items you can donate even after the holiday to make someone's Valentine's Day this year!
Heart-Shaped Cheerios

Photo from @cheerios on Instagram
Every day begins with a healthy breakfast so why not help begin Valentine's Day with heart-shaped Cheerios? This year, Cheerios is featuring a variety of different flavors in this new shape, including Blueberry, Cinnamon, Chocolate, Honey Nut, and obviously, the original cheerios flavor.
While Cheerios would love to attribute this launch to the season of love, according to Business Wire, "Cheerios released the new cereals to raise awareness to National Heart Health Month, which conveniently takes place in February." Cereal, particularly healthy cereal, is always a top item to donate because of the universal appeal and long shelf life.
Love at First Crunch
Photo from @lovecrunchorganic on Instagram
Another breakfast item that pairs well with everything is granola! Nature's Path has "Love at first crunch" dark chocolate raspberry granola. Not only is this the perfect thing to donate to make someone's valentine's breakfast a little more special, Nature's Path took a charitable stand with this granola line.
According to Nature's Path, "For every bag purchased Nature's Path will donate the equivalent in cash and/or organic food up to $1,000,000 a year to The Food Bank. Every bite will not only give your mouth love but it will give you love in your heart". Consider donating a bag of granola this year to spread even more love.
Heart Shaped Noodles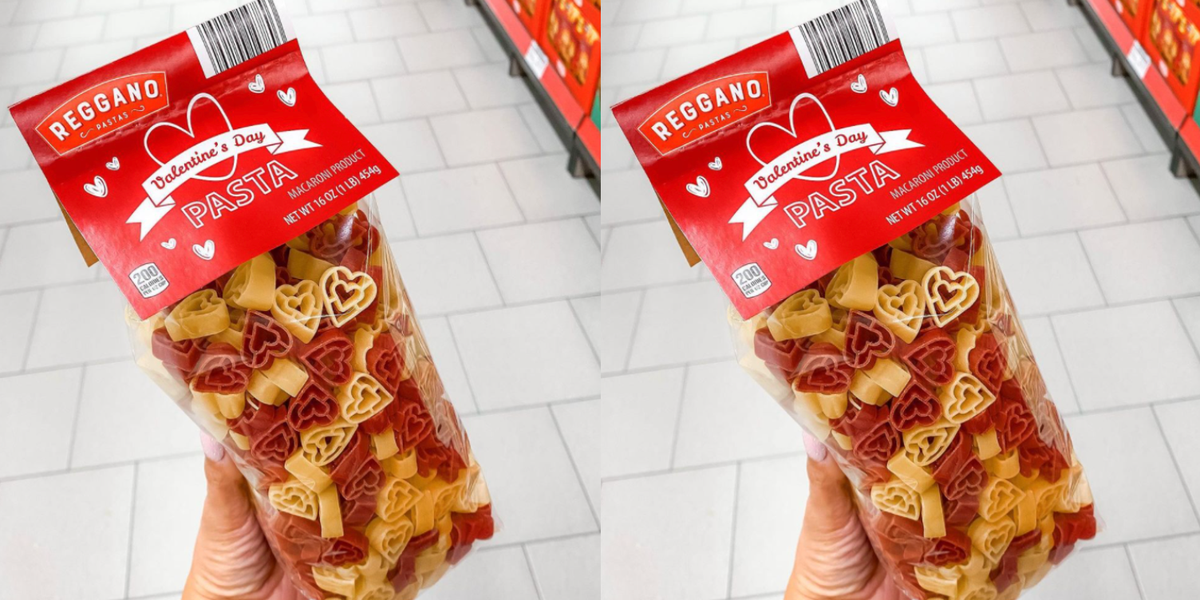 Photo from @aldi.mademedoit on Instagram
Breakfast items are not the only Valentine's Day themed nonperishable foods you can donate this year. Aldi's Reggano heart-shaped pasta is one option! This pasta features red hearts and noodles mixed together and is labeled to be a macaroni product. And the best part, it never expires!
These noodles can be eaten with any type of pasta sauce your heart desires and Delish describes them as a "lowkey way to celebrate a holiday with a food product you probably keep in your pantry anyways." They are the perfect thing to donate to your local food bank!
Pink Mac and Cheese
Photo from @kraft_macandcheese on Instagram
Mac and cheese is a classic nonperishable food item that constantly gets donated. Kraft has creatively released pink macaroni and cheese for Valentine's Day. This candy-like twist on a household favorite has us a little skeptical, but it's still mac and cheese so it'll likely be delicious. The downside - you might have to be a giveaway winner to get your hands on a box of these.
"The Kraft Heinz Company is giving away 1,000 boxes of pink Candy Kraft Mac & Cheese to celebrate Cupid's big day," a spokesperson from Kraft said. "Giveaway winners will receive a box of the classic macaroni and cheese along with a candy flavor packet that turns the traditionally orange dish pink and adds a hint of sweet flavor."
Beef Jerky Bouquets

Photo from @manlymanco on Instagram
Heart-shaped noodles and pink foods aren't the only option for a filling meal on Valentine's Day. ManlyManCo sells beef jerky bouquets. These consist of beef jerky styled to look like flowers and roses to be a fun and delicious alternative to giving someone flowers! This also serves as a reminder that even if you can't score the flower-shaped jerky, normal beef jerky is perfect to donate as well.
What can you do this Valentine's Day?
Whether it's the standard, go-to non-perishables, or the love-themed editions, we encourage you to donate to your local food bank or even sign up to host your own food drive! Our Spread the Love event is our featured February food drive where you'll donate peanut butter and jelly, some of the most requested items by food banks.
Click here to sign up for your own food drive or consider making a donation today to help in the fight against hunger.